Listening to Handel today :


The phrase "the sting of death is sin and the strength of sin is the law" is a passage taken from 1 Corinthians 15 wherein Paul writes,
Now this I say, brethren, that flesh and blood cannot inherit the kingdom of God; nor does corruption inherit incorruption. Behold, I tell you a mystery: We shall not all sleep, but we shall all be changed— in a moment, in the twinkling of an eye, at the last trumpet. For the trumpet will sound, and the dead will be raised incorruptible, and we shall be changed. For this corruptible must put on incorruption, and this mortal must put on immortality. So when this corruptible has put on incorruption, and this mortal has put on immortality, then shall be brought to pass the saying that is written: "Death is swallowed up in victory."
Death, where is your sting?
O Hades, where is your victory?"
The sting of death is sin, and the strength of sin is the law. Thanks be to God, who gives us the victory through our Lord Jesus Christ. Therefore, my beloved brethren, be steadfast, immovable, always abounding in the work of the Lord, knowing that your labor is not in vain in the Lord.
What do these phrases mean; "flesh and blood cannot inherit the kingdom of God"? Normally this is interpreted to mean that the body cannot be part of the resurrection - but does Paul suggest flesh and blood as synonymous with mortality? he certainly equates it to "corruption" - but not as though flesh and blood are evil; merely temporary, fading, passing away. Mysterious.
Moreover, Paul says, "We shall not all sleep, but we shall all be changed" - we shall all be changed. What does he mean by "we shall not all sleep"? Perhaps to his audience that meant they would not die b/c the second coming was considered immanent. But I can't believe they were that zealously naive. Does Paul mean by "sleep" something else? And who is the "all"? Believers? Humanity? the entire created world?
Also, the "putting on" of the incorruptible and the immortal - like a cloak? Paul doesn't say we will become immortal, but that the corruptible will put on the incorruptible; the corruptible, the body we all have to endure, will become the eternal king. What could that mean? is it an acceptance of this world? A coming to accept the mortal for what it is and thus "seeing the world in a grain of sand" as Blake put it?
"The sting of death is sin, and the strength of sin is the law" - I'm baffled. If sin results from the sting of death then the meaning is that the knowledge of death causes us such pain that we think sin might comfort and it doesn't, just adds to the sting. Or maybe that if death weren't around we wouldn't feel sin as a sting at all. Or maybe that sin and the awareness of death and the pain both cause are all due to rational thought; only the rational creature is aware of death, sin, stings. A dog licks its balls in the ballroom. Further, if the strength of sin is the law, does that mean that we feel law as a sting when we sin? but as a balm when we do not sin? or that the law of the universe, the order of things, out of which we are put, causes us to feel our lack more intensely?
Finally, what is the victory of Jesus Christ? A seeing of our lives as transfigured; transcending the limitations of this mortal flesh, o'erleaping "the thousand natural shocks which flesh is heir to"? "After the first death there is no other," writes Dylan Thomas. Is this what Paul means? The Christ in us, once achieved, grants us the kingly perspective of seeing all our life as gift?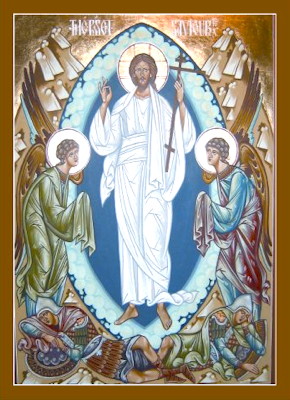 If we do not see all life as gift, if we see it merely as labor or onerous or one damn thing after another, "tomorrow and tomorrow and tomorrow", then we would indeed be miserable bastards, wouldn't we? Seeing life as gift, allowing the Christ to grow in us until we are Jesus, Jeshu, YHWH - this makes all our labor worthwhile; gives light to our days, sleep to our nights, food to our tables.
This reminded me of the reading from John 1:3;"Sin is lawlessness"
Behold what manner of love the Father has bestowed on us, that we should be called children of God! Therefore the world does not know us, because it did not know Him. Beloved, now we are children of God; and it has not yet been revealed what we shall be, but we know that when He is revealed, we shall be like Him, for we shall see Him as He is. And everyone who has this hope in Him purifies himself, just as He is pure. Whoever commits sin also commits lawlessness, and sin is lawlessness.
But that's a subject for the next blog. Back to grading essays.