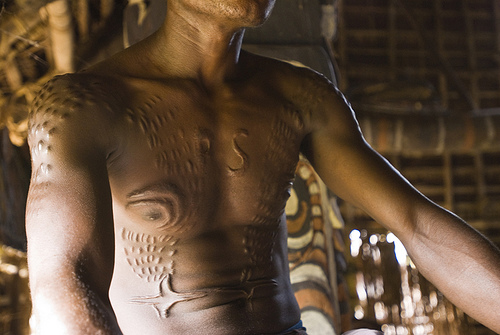 The passage in Book 5 of Odyssey by Homer suggests a powerful connection to birthing or initiation ceremonies.





"My poor good man," said she (Ino), "why is Neptune so furiously angry with you? He is giving you a great deal of trouble, but for all his bluster he will not kill you. You seem to be a sensible person, do then as I bid you; strip, leave your raft to drive before the wind, and swim to the Phaecian coast where better luck awaits you.
And here, take my veil and put it round your chest; it is enchanted, and you can come to no harm so long as you wear it.
As soon as you touch land take it off, throw it back as far as you can into the sea, and then go away again." With these words she took off her veil and gave it him. Then she dived down again like a sea-gull and vanished beneath the dark blue waters.
τῆ δέ, τόδε κρήδεμνον ὑπὸ στέρνοιο τανύσσαι
ἄμβροτον: οὐδέ τί τοι παθέειν δέος οὐδ᾽ ἀπολέσθαι. (Odyssey 5, 345)


"this woman's head-dress around your middle (sternum) stretch/tie - (it is) immortal."

κρήδεμνον = scarf, veil, head-band


Neptune sent a terrible great wave that seemed to rear itself above his head till it broke right over the raft, which then went to pieces as though it were a heap of dry chaff tossed about by a whirlwind. Ulysses got astride of one plank and rode upon it as if he were on horseback; he then took off the clothes Calypso had given him, bound Ino's veil under his arms, and plunged into the sea- meaning to swim on shore.
...he came to the mouth of a river, and here he thought would be the best place, for there were no rocks, and it afforded shelter from the wind.
Then the god stayed his stream and stilled the waves, making all calm before him, and bringing him safely into the mouth of the river. Here at last Ulysses' knees and strong hands failed him, for the sea had completely broken him. His body was all swollen, and his mouth and nostrils ran down like a river with sea-water, so that he could neither breathe nor speak, and lay swooning from sheer exhaustion; presently, when he had got his breath and came to himself again, he took off the scarf that Ino had given him and threw it back into the salt stream of the river, whereon Ino received it into her hands from the wave that bore it towards her. Then he left the river, laid himself down among the rushes, and kissed the bounteous earth.

Greek mythology Ino (Ἰνώ) was a mortal queen of Thebes, who after her death and transfiguration was worshiped as a goddess under her epithet Leucothea, the "white goddess." Alcman called her "Queen of the Sea" (θαλασσομέδουσα), which, if not hyperbole, would make her a doublet of Amphitrite. In her mortal self, Ino, the second wife of the Minyan king Athamas, the mother of Learches and Melicertes, daughter of Cadmus and Harmonia and stepmother of Phrixus and Helle, was one of the three sisters of Semele, the mortal woman of the house of Cadmus who gave birth to Dionysus. The three sisters were Agave, Autonoë and Ino, who was a surrogate for the divine nurses of: "Ino was a primordial Dionysian woman, nurse to the god and a divine maenad" (Kerenyi 1976:246).




In Greek mythology, Leucothea (Λευκοθέα), "white goddess" was one of the aspects under which an ancient sea goddess was recognized, in this case as a transformed nymph. In the more familiar variant, Ino, the daughter of Cadmus, sister of Semele, and queen of Athamas, became a goddess after Hera drove her insane as a punishment for caring for the new-born Dionysus. She leapt into the sea with her son Melicertes in her arms, and out of pity, the Hellenes asserted, the Olympian gods turned them both into sea-gods, transforming Melicertes into Palaemon, the patron of the Isthmian games, and Ino into Leucothea.

Modern era lack of rites of passage
- sports